Receiving and Reviewing Assigned Carts
If you have Requisitioner permissions, other Shoppers and Requisitioners can assign carts to you. When a cart is assigned to you, you will receive an email notification that contains a link to the cart.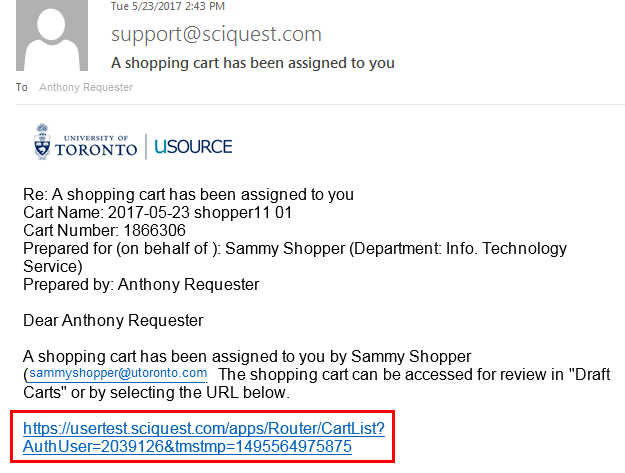 You can also log into uSOURCE and review any assigned carts:
The Cart Management > Assigned Carts page lists all carts that have been assigned to you and carts you have assigned to other users. To make the cart your active cart (i.e. open the cart), click on the Shopping Cart Name link. If you wanted to return or delete the cart, click on the View button, then make your selection.
Reviewing an Assigned Cart
Once the cart has been opened, you can review and make changes to the order by clicking on the
cart total in the top navigation bar, then View My Cart.
If you're ready to enter the account code assignment and shipping information, click the
Proceed to Checkout button (1). To remove items and for additional options (e.g. move items to another cart), select the check box and then click the down arrow menu (2).

---
Last Updated: December 1, 2021