Social Procurement – Pilot Program
Every purchase has a social, economic, cultural, and environmental impact.
Social procurement is about leveraging purchasing power to achieve overarching institutional goals that help shape inclusive, vibrant, and healthy communities.
Over the course of the Social Procurement Pilot Program, participating faculties and departments will have access to a Diverse Supplier Portal. The Portal is a directory of social enterprises, equity-deserving and local suppliers that provide a wide range of goods and services.
The pilot will allow for monitoring of the program prior to full community roll-out.
Expand All | Collapse All
What is Social Procurement?
Social procurement leverages purchasing power to benefit social, environmental, and economic value (including local economic development, employment opportunities, vibrant and thriving neighbourhoods).
Traditional businesses seek to create economic value (for both buyer and seller), whereas social procurement can be a tool for building community value.

Why Social Procurement Matters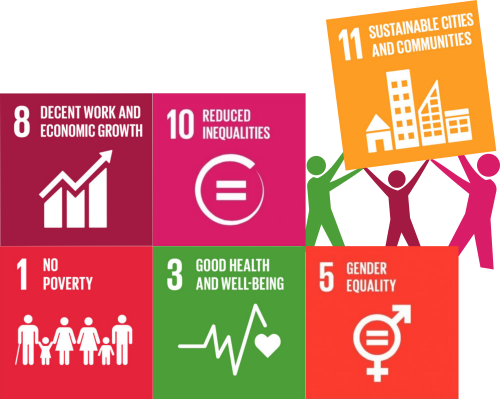 By leveraging institutional purchasing power in support of this social imperative, significant benefits can be achieved:
Foster an inclusive economy, reduce poverty and create employment opportunities that enrich the community
Expand the supplier pool, provide greater variety of products and services, stimulate innovation, encourage competition and enhance internal value
Stimulate the local economy by reducing poverty and maximizes the return on investment through taxpayers' dollars
Contribute to United Nations Sustainable Development Goals 1, 3, 5, 8, 10, 11.
What is a Diverse Supplier?
Diverse Suppliers can be:
Social Enterprises – revenue-generating ventures, often non-profit organizations or for-profit B-Corps pursuing business objectives with a social impact mission, such as re-investing profits back into the community, or employing at-risk youth or persons with disabilities.
Diverse/Equity-Deserving Suppliers – businesses at least 51% owned, managed and controlled by an equity-deserving community, such as Black, Indigenous Peoples (First Nations, Inuit and Métis), Persons of Colour, LGBTQ2S+, Women, Persons with Disabilities, Youths, Seniors, and New Canadians.
Local Suppliers – small businesses in communities that can be supported to grow and increase their capacity, creating a ripple effect in the local economy that can increase local wealth and jobs.
How to Purchase from Diverse Suppliers
All suppliers (whether diverse or not) should be provided with an equal opportunity to do business with U of T and should meet the specifications of a quotation request including competitive pricing. Purchases from diverse suppliers are subject to the University's Procurement Policy (e.g. a minimum number of quotations based on dollar thresholds).
Under $10k

$10k – $50k

$50k – $100k

Open Competitive


1 Quote required

Source directly from a supplier without obtaining additional quotations

2 Quotes required

Invite to quote at least one diverse supplier (if available)

3 Quotes required

Invite to quote at least one diverse supplier (if available)

Open tender required
Diverse Supplier Portal
Only pilot program participants can access a diverse supplier portal using their UTORid credentials to log in.
Diverse Supplier Portal
Introduction to Social Procurement at U of T
The Introduction to Social Procurement provided by Buy Social Canada answers the what, why, and how, including the evolution of social procurement, key concepts, and best practices.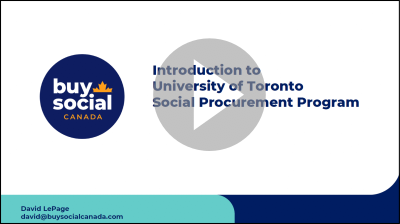 ---