Revised form for Non-Competitive Procurement
May 5th, 2016 | Posted In :
General Operations
Policy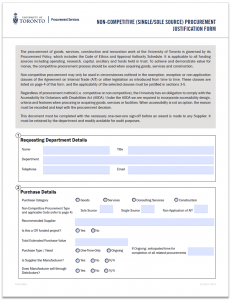 A revised Non-Competitive (Single/Sole Source) Procurement Justification form has replaced the former Sole Source form.
Effective June 1, 2016, it is the document to be used when requesting non-competitive procurement.
This revised form clarifies the requirement for a rationale from requestors justifying the procurement of goods and/or services on a non-competitive basis. In addition, the University's obligation to comply with the Accessibility for Ontarians with Disabilities Act (AODA) has been included. This provision outlines our responsibilities with respect to the provision accessible goods, services, and facilities.
Requestors may start using the revised form immediately.
Please direct any questions to Renata Faverin (Director of Procurement Services).